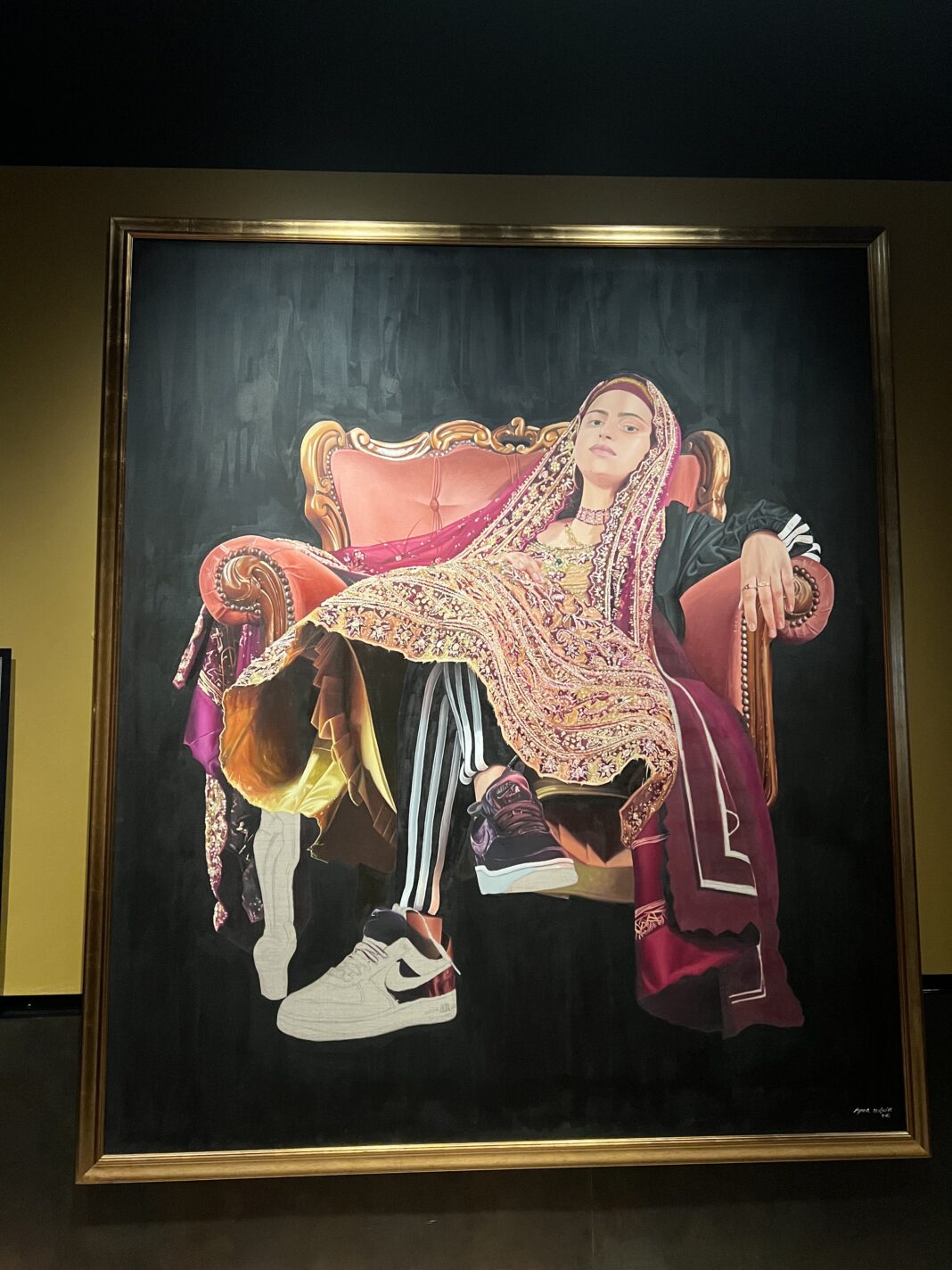 Walking into the refurbished Manchester Museum, I wasn't sure what to expect from the new South Asia Gallery.  I'd been counting down the days for the grand reopening ever since I heard about it last year, so I was delighted when the Speaker team were invited to the preview before it opened to the public, following it's £15 million transformation.  I was eager to visit and could feel it in my bones that this was going to be something good.
As a British Pakistani, hearing about the first new permanent South Asia gallery in the UK that is dedicated to telling the stories of the diaspora communities, should have worried me.  Was this going to be another boring exhibition of "chai" and "curries" that represents a completely outdated version of our community? But I had read that Manchester Museum were co-curating with the British Museum and that the gallery was led by a collective from Manchester's local South Asian communities; a group made up of community leaders, educators, artists, scientists, historians, journalists, students and musicians.  So, I did hold high expectations but never did I think that they would be exceeded.
Decolonisation
The first thing that grabbed my attention was seeing a piece in the Belonging Gallery about colonialism and the truth about museums stealing artefacts. I gasped! Are we allowed to talk about this so openly?! How is this in a museum? That's when it hit me that this gallery is going to be different.
Despite being an avid goer of museums, I can completely understand why ethnic minorities don't feel welcome there. I think many of us connected with the scene in the movie Black Panther when Erik Killmonger educates the museum's host on how the pieces were stolen from his country, Wakanda.  You may argue that the country and story are fictional but for many of us this is a reality of how we can feel when visiting museums and these spaces can go against many of our values for this exact reason. However, the new Manchester Museum openly acknowledges this, which was refreshing to see.
"My job is in decolonisation and indigenisation and we had to make sure that's embedded in here," Alexandra P Alberda, Lead Curator of the Belonging Gallery, told me. "I always say in the work I do with indigenous communities that whenever we start a new project, be it an exhibition or just learning about an object, repatriation and decolonisation always have to be on the table from the beginning. Because it's harmful if we haven't thought of that and someone says: 'well, what if people want it [the artefact] back?' So, it's actually reframing our assumptions. And that's where it feels real."
Being a second-generation immigrant living in the UK, it can be uncomfortable to have some of these conversations.  However, the pieces and commentaries made me feel validated and confident to not shy away from discussions around the tragic impact of colonialism in the future because it's now backed up by a museum, written in black and white. In that moment, I felt empowered to be part of a community who understands this struggle. And it was all quite overwhelming.
"That is the hope, that people come and see themselves and they feel comfortable, that there is a space that you can come back to and that's why we have the art cart here as well, where if you've had an emotional experience, you can use that," Alexandra tells me. "We recognise that this isn't just somewhere you go and objectively look at things but actually you're going to be filled with emotions and be filled with those type of reactions and having an outlet for that is also important."
The honesty of the impact of colonialism in our communities is one of the reasons I will be bringing not only my South Asian friends, family and my parents to the museum, but my non-South Asian loved ones too; the gallery shares a part of me that I may not have been able to express in words to them before.
And this opens the museum up to a whole new audience, such as my mother, whose visit to this museum will be her first visit to a museum ever. I feel it's important for her to come here and there's something so emotional about that in itself.  Places we have felt excluded from our whole lives and shield our parents away from because they felt like 'white spaces', I can now walk into proudly with my mother, whilst she wears her shalwar kameez, and allow her to learn about and celebrate her history.
The gallery explores the horrific Indian-Pakistan partition, one of the largest mass migrations in history , which is too painful for many to talk about, from those who witnessed it to their children and descendants.  For this reason, there will be many facts and stories that our grandparents and parents might not even be aware of; the museum gives us the opportunity to learn about our own history in an accessible place. My mother being one of many who will be able to recognise themselves in so many pieces and hopefully feel that sense of belonging that we have so rarely been allowed to feel. A board in the South Asia Gallery reads:
'The legacies of colonialism mean that British Asians are often confronted with traumatic histories. Old cotton mills, country estates and statues of colonial rulers are visible reminders of empire imprinted on our cities and spaces.  To challenge enduring narratives about Britain imperial past, we aim to take up space by telling alternative histories and resisting stereotypes of what it means to be British Asian.'
I wonder if this is one of the reasons why the new gallery feels like so much more than just a museum to me.  It's a celebration of how far we've come as a society, permanent exhibition of our story that is here to stay and be remembered until long after we're gone.
The pieces
The South Asia Gallery explores six themes; Past & Present, Lived Environments, Science & Innovation, Sound, Music & Dance, British Asian and Movement & Empire.
I connected with so many pieces, pieces that many of us South Asians walk past in our own homes a hundred times a day and pay no notice to. But walking past them here, I saw them in a different light with my own stories represented in each theme; remembering the endless hours my mother would spend on the sewing machine during my childhood ensuring I had the perfect outfit to wear on Eid, hearing my father and uncle playing the tabla and singling Qawwali songs all night, feeling the jerk of almost falling out of a rickshaw whilst traveling in the streets of Pakistan with my aunty, and hearing the laughter of my friends at a dholki whilst watching Pardesi Raga by Alina Akbar being projected on the wall.
"I'm so glad you say that because when you do this, that's really what you hope," expresses Hartwig Fischer, Director of The British Museum. "That you open up a space to connect, to connect to the past, to connect to people.  In the end, it's always about that: Who were they? How did they live? How did they manage to survive?  How did they not survive?"
Sadly, however, what I don't remember feeling as a child is inspired or like I could take on the world because anything is possible; not like I did when reading the fascinating stories in the South Asia Gallery about how South Asians had a huge part to play in fields like Science and Mathematics.
I wondered how I would have felt or what would have been different about me and my life had I learned about these figures and their innovations as a young person.  How would it have changed my thinking and my experiences?
"There's nowhere like this," says Nusrat Ahmed, Lead Curator of the South Asia Gallery. "I've lived in Manchester all my life and I've never seen myself represented apart from an odd day like Diwali or an iftar and it's always been Bhangra, bhindis and henna – there's so much more! We have temporary platforms and then we're wiped out again. I felt like it was a parachute system of institutions coming, taking, presenting, deleting.
"This is where we make our mark and this is where future generations will be able to see themselves in the figures like in Science and Innovation; it's not about Einstein all the time. There are South Asian figures we need to know about because although they don't tell you this at school, you can come find out about it in the South Asia Gallery and I think that's when young people will embrace their heritage.  And they'll know who they are because they can see themselves. It's not even just South Asians, I think anyone can use this gallery and each of them can see themselves."
The people behind the gallery
Speaking to the curators about these pieces, I saw the excitement and vision in their eyes and I could feel everything they had set out to do. Their hard work shines through the museum. You can see how each piece has been carefully picked and selected in not only the galleries (I was satisfied that the museum truly lives up to its promise of committing to inclusion when I saw the 'Eid Mubarak' card in their gift shop and a prayer room sign near the entrance).
The museum explores the past whilst still exhibiting the contemporary. Seeing the Metz and Trix album from the early 2000s displayed in the gallery, I thought about how the curators and working group acquired the perfect blend of not only the past and present but the South Asian and Mancunian.  As a South Asian who grew up in Manchester, I felt they have represented me entirely and this made me immensely proud. But what's even better is that the museum does this in addition to giving you a real sense of Manchester's good old-fashioned friendliness.  It's warm and invites everybody, including those from all over the world, to feel what is so great about this city: the people.
"Manchester Museum approached us back in 2015 saying we would like to do the South Asia gallery and can we team up because we don't have very strong collections in this area, but we have a very strong community – how can we combine this?" explains Hartwig Fischer. "This idea of having a gallery which is community curated was one of the main reasons to engage because we wanted to enlarge our own practice. We wanted to explore how to bring in communities to tell their stories, to enlarge the number of voices that are present in museums, and that deepen and widen the offer to the public. And I think this gallery is really a game changer.
"It's an amazing achievement that will be looked at, by many museums, not only around this country but internationally. And I think it's important to stress that it's the achievement of a collective, of members of a specific community – which in themselves have an extremely rich and varied cultured heritage, bridging continents and a complicated history – embracing all that and keeping it present. Here's the space where they can share that and offer it up for identification.
"I'm sure that everybody coming into this gallery, not only members of the South Asian community in the UK, or in Europe will be fascinated. Everybody will understand that, through your own experience, your own stories and history, you can connect. And I think that's the key."

Final thoughts
Before I left the gallery, I sat by The Singh Twins' murals and realised how intricate they were; they are not just to be glanced at or looked at for a few seconds.  I could spend hours looking at each detail and thinking about what it means.
And this is how incredibly reflective I have been since visiting the revamped Manchester Museum. Everything in it aligns with what we work hard at Speaker to achieve; our values and our vision for a true, accurate representation of Manchester's ethnic minorities. The galleries are a celebration of our people and it's finally been done right.
Before visiting the museum, I encourage you to head to our social media platforms and watch snippets of our interviews with the curators and the Director of The British Museum. These videos will give you a better understanding of the pieces and enhance your experience.