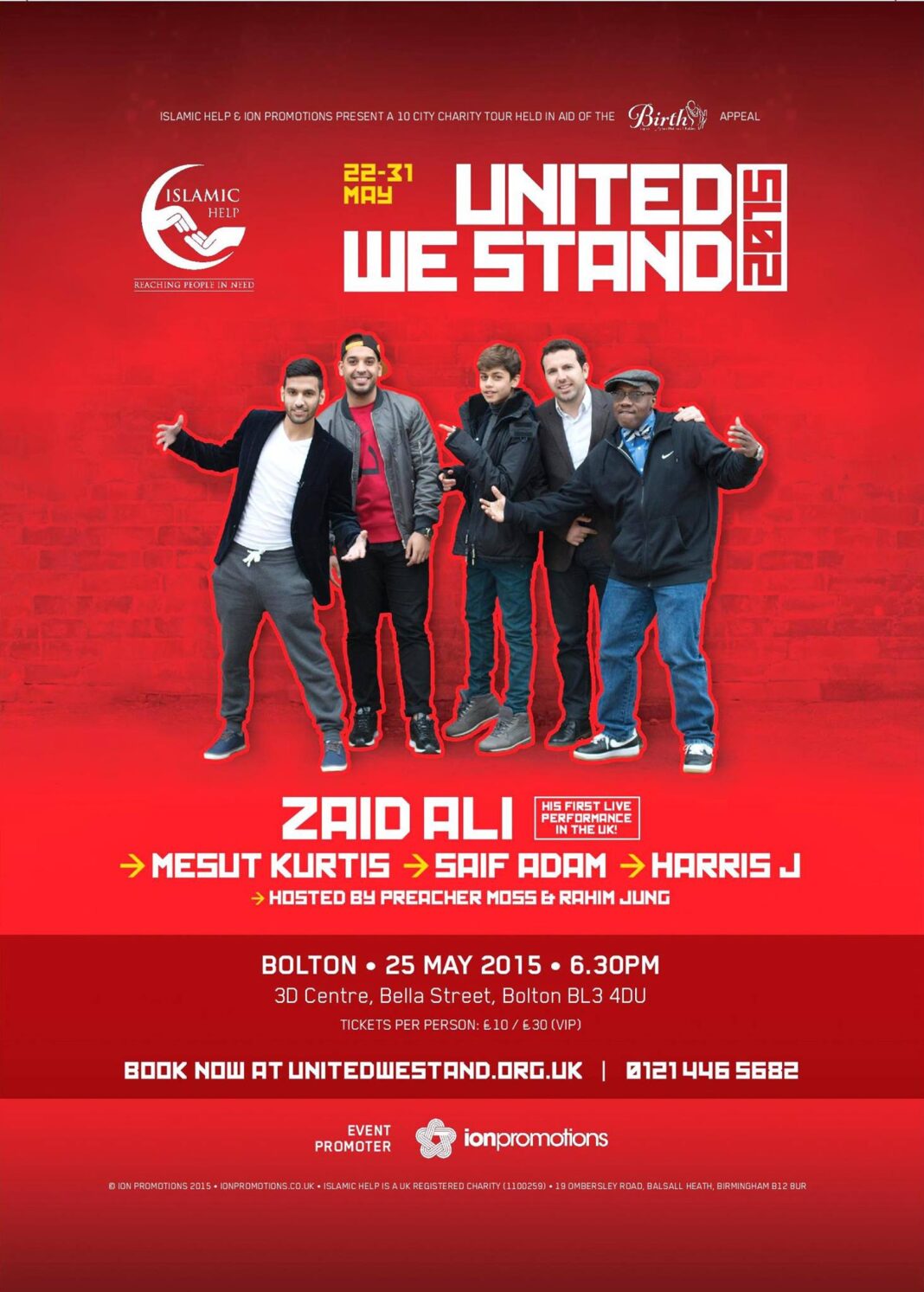 Islamic Help charity organisation and Ion Promotions came together to put on the fresh and contemporary United We Stand show at Manchester's Hilton Hotel last Bank Holiday weekend, where globally famous nasheed artists performed alongside the popular Canadian YouTube star, Zaid Ali.  Louisa Butt catches up with the artists and writes about the event that raised £150,000 for the mothers and children of Syria. 
Hundreds gathered at Manchester's Hilton Hotel, old and young, with their parents, children, spouses and friends.  This came as no surprise, since the line-up was perfect for a family event – Saif Adam, Harris J, Mersut Kurtis and Zaid Ali – smoothly presented by Preacher Moss and Rahim Jung.
The ten city UK tour was organised by Ion Promotions and Islamic Help in the aid of the Birth appeal, to provide desperately needed support for Syrian women and their babies.  Islamic help is a UK registered charity and international NGO established in 2003 by a group of young people determined to make a difference to the lives of those afflicted by poverty and suffering. Enthusiastic, dedicated and visionary the group took their ideas to older and wiser members of the community and were pleased to get their support and to launch an initiative that a few years later would become the globally recognised charity that is Islamic Help.
If I'm completely honest, I am not a particular fan of big charity events.  I feel that, amidst the grand venues, luxurious buffets and glamourous galas, it makes it easy for those attending to lose sight of the cause that funds are being raised for.  However, United We Stand was possibly the first charity event I've attended which kept bringing the audience back to the true issue at hand.  From the video of Zaheer Khan (charity director) in Syria, speaking to the people about their stories, to Rahim Jung's gimmick-free, heartfelt description of why the funds are desperately needed, there was not one dry eye in the room.  I struggled to hold back my tears as we were reminded throughout the night of the real reason we were all gathered.
Other mainstream charities can learn a thing or two from Islamic Help about hosting fundraisers.  I put the whopping £150,000 they raised that night down to their effective and honest technique of raising as much money as possible, without pushing people to awkwardly reach into their pockets.  They did this by encouraging the audience into making a pledge to host their own community fundraiser, promising them as much help as they require with it.  The amount of money raised that night proves the usefulness of this non-assertive approach, which I found refreshing.
The fundraising technique was not the only refreshing factor of the night.  I was pleasantly surprised at the nasheed artists' performances, which is quite a big deal coming from someone who has never really delved into the world of nasheeds.  It was pleasing to see the fairly new artists, such as Saif Adam and Harris J, provide something innovative to this industry and more experienced artist, Mersut Kurtis, still have the power through his sound to liven up a whole room.  When speaking to the artists, it was remarkable to discover how far they had come in such a short space of time and the paths in life that bought them to this field of work.
For example, Harris J (or as I have started referring to him, the Muslim Justin Bieber), just recently completed his time at the acclaimed BRIT School of performing arts in London, notable for its numerous famous alumni including Adele and the late Amy Winehouse.
"I began working with mainstream artists but felt they did not have my best interests at heart," Harris explained.
The 17-year-old then joined Awakening Records, won a talent contest and has since performed all over the world, from Europe to South Africa.
Saif Adam also worked with mainstream artists such as Rihanna, Usher, Jason Derulo and One Direction, as a songwriter.
"I used to get invited to parties with the likes of Lady Gaga and Ed Sheeran but this was conflicting with my religion," Saif told me. "I wanted to make my parents proud but this was doing the complete opposite."
After returning home from completing Umrah (pilgrimage to Mecca) Saif had a change of heart and decided he no longer wanted to continue his showbiz career as a mainstream songwriter.  He was surprised by the support he received by his famous friends to enter the world of nasheeds and has not looked back since.
"Me and Harris J share the same vision, as in we want to make being Muslim "cool" by challenging negativity through our music."
If they reach half the success that Mersut Kurtis has then they would've done a great job, as the 33-year-old has been in the nasheed industry for twelve years.  A Macedonian singer of Turkish descent, Mersut Kurtis has performed all over the world, from Europe to America and Australia.
Mersut is in demand internationally, so much so that he performed at Morocco's Mawazine music festival as part of a line-up that included the likes of Jennifer Lopez and Usher, just a few weeks after the United We Stand tour.
"This would not have been possible a few years ago, when we struggled to promote nasheeds in the mainstream industry as most people had the wrong understanding of our music," Mersut explained. "But we have succeeded in changing this in many countries and are continuing to do so."